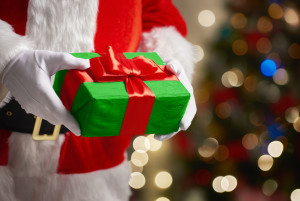 "Nobody can conceive or imagine all the wonders there are unseen and unseeable in the world"
The "Santa" Brand
On Sept. 21, 1897 Francis Pharcellus Church, responding to 8 year old Virginia O'Hanlon, penned "Yes Virginia, There Is a Santa Claus".  In what would become the most reprinted editorial ever, Church's prose conveyed the essence of the universally recognized Santa Claus brand. As with all famous brands, the Santa Claus brand connects with us and inspires us emotionally.  Regardless of your religious affinity, the traits of Santa are conveyed in many religions and philosophies!  While some may challenge Church's conclusion, none can deny that Santa's brand is alive and thriving!
In business, how you brand your company is wildly important.  The saying is true, you never get a second chance to make a first impression!  Although the "Santa" Brand is most present around the holidays, there are many traits associated with the brand that can (and should) be used when it comes to branding your business!
Generosity – Santa is a giver, and somehow his sack always gets refilled.
Effectiveness – Santa delivers.  Santa is fast, but he's effective.  Speed is only an ally when you are moving in the right direction. You should always strive to provide the best possible customer service to your clients to ensure they are satisfied!
Integrity– Santa tries to do good with his work first.  Everything else follows. When conducting business do you always do the right thing? If so, people will be more likely to refer you to others and be loyal to you.
Kindness– Nothing can cut through social classes or connect strangers more. Regardless of how people treat you, always try to remain calm and give everyone the same level of great customer service. It will benefit you in the long run, even if you don't see the effect right away.
Happiness – He's a jolly old elf.  Happiness is contagious. If you conduct yourself in a positive, happy manner, you are likely to attract the same.
Like the Santa brand, we all carry a personal brand that is recognized by those around us. Hopefully some of Santa's characteristics make their way into your brand.
To read the original article, click here.
**Please note our office will be closed on Friday, December 23rd and Monday, December 26th.  We will resume our normal hours of operation on Tuesday, December 27th.  Have a happy holiday from everyone at New Empire Group!